Buy 2 Get 1 Free
FURRFresh is an ultra-hydrating and cleansing pet shampoo that contains Salicylic acid, a potent keratolytic agent that aids in the exfoliation of your pet's skin. This ingredient softens and moisturizes the skin while eliminating dead skin cells
Buy Now
Buy 1 Get 1 Free
Introducing Fluffy & Fresh Hydrating effect pet shampoo with D-Panthenol (Vitamin B5)
this clinically formulated shampoo combines vitamins B5 and aloe vera to soothe, Protect and hydrate your pet's skin...
Buy Now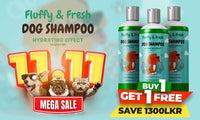 Premium Pet Treats from Germany with Natural Ingredients
Petmart offers high-quality pet treats made in Germany, using only natural ingredients with no artificial flavors or colorings. The treats are nutritious, delicious, and carefully formulated to provide a balanced diet for pets. The company is committed to quality and carefully selects each ingredient from trusted suppliers.
Unleash the Fun with Pet Toys at PetMart Sri Lanka!
Welcome to PetMart, your one-stop-shop for all your pet needs in Sri Lanka! We understand that pets are more than just animals - they're beloved members of the family. That's why we're dedicated to providing you with the best pet products and accessories, including a wide selection of pet toys to keep your furry friend entertained and happy. From chew toys to interactive games, our collection has everything you need to keep your pet active and engaged. So come and explore our range of pet toys at PetMart and let us help you give your pet the love and attention they deserve.
German-Made Quality: Nourish Your Dog with Our Trusted Dog Food Collection
A premium dog food collection made in Germany with the finest ingredients to promote overall health and well-being. No artificial preservatives or flavors, high in protein and essential nutrients.
Check out our finest dog food range. Click Here
Trusted German Quality: The Ultimate Cat Food Collection
Experience the best in cat nutrition with our German-made cat food collection, made with high-quality ingredients and strict production standards for your pet's health and happiness.
Check out our finest cat food range. Click Here
Buy now pay later with Koko
Choose Koko when shopping at your favourite retailers and split the cost into 3 easy interest free payments.
Petmart.lk is the largest Premier online pet shop in Sri Lanka provides wide range of quality pet food and pet supplies for the lifetime needs of pets. At Petmart, we love pets, and we believe pets make us better people. Our Online pet shop makes you easy to get your pet essentials to your doorstep any where in Sri Lanka, Our Physical Pet Shop in Colombo is located near Nugegoda, colombo. where you can get a great experience with your furry friend.